I have just come back from a weekend in Madrid, taking part in the Great Madrid Escape.
Friday morning I took an early flight from Frankfurt airport to Madrid-Barrajas, and then travelled in on the metro to the city centre to find my hotel, after which I went to the first meeting point where I met Ben and Marina from NotesfromSpain.com for the first time, along with other members of the NotesfromSpain forum.
Due to the weather, I spent most of my time in caf√©s and shops when we weren't all meeting up to eat together. There were some really good meals (shame about the cod…) at prices that would put some restaurants in Frankfurt to shame.
On Saturday afternoon I came a across a demonstration taking part through the middle of the city, protesting against neo-nazis in Madrid but also against the Spanish Royal Family! Many passers-by took note and were listening to the speeches being made at the Puerta del Sol.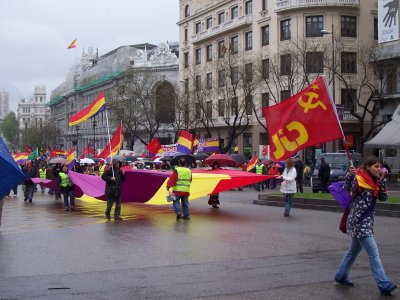 Listen to the podcast to find out more:
(Press the 'Äúplay'ÄĚ button to listen to the podcast)
Tags: Great Madrid Escape, Madrid